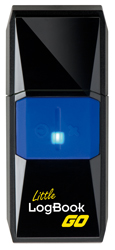 The Little LogBook GO device is a GPS trip logger device that enables you to record all your movements accurately. The Little LogBook software allows you to categorise and manage your recorded trips for the purpose of producing business/tax reports, or trip data can also be exported and viewed using software such as Google Earth and even imported into other GPS devices for navigation purposes.
The Little LogBook Go is battery powered and motion activated. Once motion is detected, the device will leave standby mode and start actively logging your position. Once no motion has been detected for 2 minutes the device will enter standby mode again.
No monthly subscription, just a once-off purchase.
• USB GPS Trip Logging Device
• Software CD
Little LogBook GO can be used anywhere in the world.
Yes. Because it is battery operated the Little LogBook GO device can be used anywhere.
No. Although there are times when satellite reception can be obtained indoors, most of the time the device will not receive sufficient signal to log useful data.
Battery life can vary depending on the time the device has been powered off, has been in standby mode or has been actively logging since it was fully charged. On average a fully charged battery should give around 16 hours of trip logging time.
When the cap is on, the device has an IPX6 waterproof rating. This means it is protected against heavy splashing and rain but it should NOT be immersed in water.
GPS co-ordinates and GEO locations (place names).
Your data is stored locally on your PC. Your data is NOT stored online (in the cloud) and is only available to you and you alone, regardless of whether or not you have an internet connection.
By removing the cap and plugging it into the USB port of your PC. It can also be charged with any USB-type charger such as those commonly supplied with modern cellular phones.
With the device powered off it takes around an hour to charge a flat battery using a USB 2.0 PC port.
To ensure that your data and travel patterns remain secure.
The LED on the device will flash rapidly when it is 80% full. Percentage of use will also be displayed when trip data is downloaded via the software. **Note: once the device is full it will NOT log anymore trips.
This can be done via the software using the "Configure Device" option.
Yes. The software allows a single trip to be split into smaller trips and it allows multiple trips to be combined into a single trip.
• Windows operating system (requires administrative rights for installation):
» Windows 2000/XP/Server2003 (32 & 64-bit); or
» Windows Vista/7/8/Server2008 (32 & 64-bit) **
• 1 USB port
• Mouse & keyboard
• 40MB free disk space
• Internet connection (only required for map viewing and software updates)
**Vista and Windows 7/8 require UAC (User Access Control) to be modified before installation
Little LogBook GO does not run natively on a Mac, but many of our clients successfully run it using software such as Parallels, Boot Camp and VM Ware.